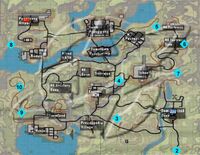 The Southern Province is a province in the west and south of North Korea. Although it is never named in game, it appears to incorporate the real life provinces of North Hwanghae, South Hwanghae, and South Pyongan. The Southern Province is located south of the Northern Province and also incorporates the capital city of Pyongyang in Mercenaries: Playground of Destruction. It is the first province the mercenary visits and features the Clubs and Diamonds as High Value Targets.
Geography
Edit
The Southern Province is located in central western North Korea. It is bordered to the north by the Northern Province and the south by Pyongyang. It features many mountainous regions around the perimeter, specifically the west and north-east, and large forested areas to the south-east which feature a prominent tunnel network used by the KPA. Unlike the Northern province there are no snowy areas.
The Southern Province contains the following locations:
In the Southern Province, China controls the most territory, as the airport, Haeju, Propaganda Village, and Nampo are under their control.
This is the only province to feature a Supergun.
The tallest point in the map lies within grid square 62, just south-southwest of the NK Fortress Gate, at 426 meters. However, an even taller point lies nearby in the restricted zone at 542 meters, the tallest point in the entire game.
The player can technically enter South Korea by using the road south of the Demilitarized Zone. In between grid squares 32 and 33, the player will pass a gate with South Korean flags; this indicates that the player has left North Korea and has entered South Korea.
Community content is available under
CC-BY-SA
unless otherwise noted.