Rescue Carmona is the first and only VZ contract in Mercenaries 2: World in Flames.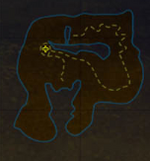 Objectives
Edit
Land on the beach
Wait for weapon delivery
Kill enemies
Destroy gate
Kill enemies
Wait for vehicle delivery
Get to waypoint
Destroy gate
Wait for tank delivery
Get to waypoint
Get to waypoint
Get to waypoint
Contract Complete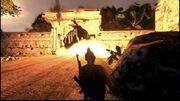 Since the player is betrayed shortly afterwards, this contract gives no reward. As explained at the start, General Carmona was supposed to stage a coup against the current government and put Solano in power but a small faction in his army objected to this and held him prisoner on Isla de Mano. This contract is very easy and acts as a tutorial and introduction to combat, vehicle controls, the PDA, airstrikes and supply drops. It is one of the few linear contracts in the game, this is fairly obvious judging by the amount of repetitive small objectives to simply accomplish 1 true objective.
After the opening cutscene, the player starts out carrying a Carbine in a Speedboat just south of the island where Carmona is. Once the player lands on the island, a Grenade Launcher supply drop is delivered to help deal with incoming soldiers, after which they are granted permission to use a satellite-guided bomb to demolish a large gate blocking their progress. An Iguana jeep is provided for faster transportation and another free airstrike to destroy another gate. Once through the gate, a Condor drops off a Jaguar Tank for heavier firepower. The tank proves itself useful in battering its way through a hastily constructed shanty town up to where Carmona is being held, an old colonial fortress. The tank cannot cross water, sadly, but it can blow the rest of the soldiers to their maker quite easily. Once this is done, the player has only to approach Carmona's cell and the contract is complete.
Community content is available under
CC-BY-SA
unless otherwise noted.