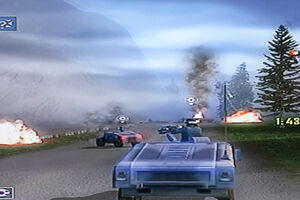 Race from South Korean HQ to Chinese HQ is a race challenge contract started by entering the K966 Scout outside of the South Korea HQ in Chongju in the Northern Province of North Korea in Mercenaries: Playground of Destruction.
In-game information
Edit
"Can you get to the Chinese HQ before the time expires?
Objective:
1. Time goal: 2:00
Rule:
1. Remain in vehicle
Reward: $10,000"
— In-game description before accepting the challenge
Contract conditions
Edit
The contract will be cancelled if:
The player exits the vehicle
The vehicle is destroyed
The contract is completed when the:
Upon accepting the contract, the player must drive through the initial checkpoint near-by to start the two minute timer. The player must then pass through each checkpoint before the timer expires. Driving through a checkpoint will display the current time taken. The player can acquire a gunner for the anti-tank missile launcher by forcing a SK solider out of the vehicle next to their HQ prior to starting the challenge, and then by driving up to the solider and honking the horn.
The player can expect to pass through North Korean resistance battling with other factions including MD-500 Scouts, T-62 tanks, ZSU-57 Anti-Air vehicles and the usual Sungri Scout patrols. The vehicles may vary between playthroughs.
The player can maneuver past these annoyances, but they can present some problems. Some of the North Koreans will be occupied with engaging the passing South Korean and Chinese vehicles, giving the player an easier time. However, some NK vehicles are alone and will engage the player on sight. The player will also pass through Chinese and SK forces battling each other. Be aware of the disguise status as Chinese forces may fire upon the player.
If the player carefully follows the checkpoints, avoids enemy fire and does not crash, they can reach the Chinese HQ with less than ten seconds to spare.
Upon reaching the Chinese HQ in time, the player will be rewarded with a sum of $10 000. The player can keep the SK K966 Scout. The player's time will be added in the "challenges" page in their PDA under "status."
Community content is available under
CC-BY-SA
unless otherwise noted.