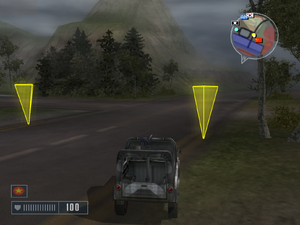 Race from China HQ to Mafia HQ is a race challenge contract started by entering the Chinese BJ2020 Scout parked outside of their headquarters at the Pyongyang Airport in the southern province in Mercenaries: Playground of Destruction.
Overview
[
]
"Can you get to the Mafia HQ before the time expires?
Objective:
1. Time goal: 2:00
Rule:
1. Remain in vehicle
Reward: $5,000"
— In-game description
Upon accepting the contract, the player must drive through the initial checkpoint in front of them to start the timer. The player must then pass though each checkpoint until the last checkpoint is reached for the timer expires. Driving through a checkpoint will display the current time taken.
As the player travels from Pyongyang Airport to East Pyongyang they will encounter minimal North Korean resistance in the form of Sungri Scout patrols.
The player simply needs to careful navigate through the checkpoints while avoiding colliding with objects. When the player passes through the last checkpoint the challenge will be completed and they will be rewarded with $5 000. The player may keep the Chinese BJ2020 Scout. The challenge can be completed again; however the time limit will be lowered to the player's personal best.
Contract conditions
[
]
The contract will be completed when the:
Player passes through the last checkpoint before the timer expires at the Mafia HQ
The contract will fail if the:
Player exits the vehicle
Vehicle is destroyed
Related page
[
]