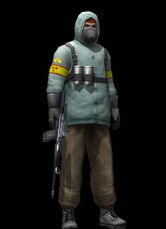 The Hearts are the third suit the mercenary hunts down in the Northern Province of North Korea during Mercenaries: Playground of Destruction.
The suit is comprised of scientists that help run Song's Weapons of Mass Destruction program. They are not dangerous themselves, as they lack any training, they are however very important and are therefore well protected.
Overview
[
]
The hearts are the third suit encountered and the first suit in the Northern Province. They are all made up of scientists and technicians who were put in charge of General Song's nuclear, chemical and biological weapons program. Being mainly scientists, the Hearts do not have any weapons training and most of them bear no actual loyalty to Song himself, instead being bribed into the program due to greed or for simple selfish reasons. In particular the "Circle of Five" is a sub-faction of the hearts who were the members responsible for creating General Song's ICBM warheads capable of being fired at any location in the world.
Although the heart members are nothing special themselves, due to their importance in the weapons program they are heavily guarded, usually with very powerful equipment such as T-62 tanks and Mi-35 Gunships. Some of them are hidden whereas some are more in the open.
Face cards
[
]
Number cards
[
]
Trivia
[
]
The Ten of Hearts, Hun Hong, is the only non-Korean member of the Deck of 52.
See also
[
]