The Grenade Launcher Challenge is a wager offered by Fiona in Mercenaries 2: World in Flames.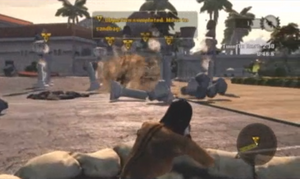 This is the second challenge available to the player, it is unlocked after completing the Emplaced Weapons Challenge  at Level 1. The Grenade Launcher Challenge is a timed challenge that involves the player shooting statues of Solano and cars with a Grenade Launcher with infinite reserve ammunition while moving through a special course set up on the West side of the Villa grounds.
This is a relatively hard challenge at level 3 because of the skill required to use the launcher fast and efficiently, the last set of statues are behind cover, they are not the concrete walls covering them. It is not possible to fire from outside the area behind the sandbags, the Grenade Launcher will simply not fire and Fiona will remind the player that they are not allowed to fire from behind the sandbags.
27 targets at intervals of 3 statues - 3 cars - 3 busts - 12 statues - 6 statues behind cover
Time limits per level:

Level 1 - 2:30
Level 2 - 1:30
Level 3 - 0:50
Wager (pre-determined by the player)
Level 2 completion adds 2 x Fiona's Favorites to the stockpile
Fiona's other challenges
Edit
Community content is available under
CC-BY-SA
unless otherwise noted.