Drew Marlowe
is a
Universal Petroleum
operative featured in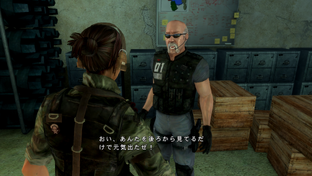 Mercenaries 2: World in Flames
.
Drew is your first UP contact as well as the manager of the UP Oil Depot, located a few blocks from the HQ itself. He gives you the mission to recapture the Altagracia Outpost and gives you your first look at UP's weapon/vehicles/airstrikes shop.
His command structure (where you go to talk to him) is also featured on China's target list, should you take their offer to wipe Universal Petroleum's operations off the map.
Appearance
Edit
He wears the normal black UP vest with an exclusive short sleeved dark grey undershirt along with black gloves. He has white, balding hair that ends with a small knot at the back of his head. He is wearing black sunglasses and a headpiece in his ear.
Community content is available under
CC-BY-SA
unless otherwise noted.