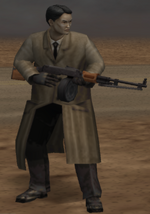 The Clubs are the first suit the mercenary hunts down in Mercenaries: Playground of Destruction. They are comprised of members of Division 39 which finances Song's Weapons of Mass Destruction programs. 
Overview
[
]
The clubs are all mostly related to each other due to all being members of Division 39. Division 39 was a state-sponsored mafia that had members in President Kim's own cabinet and used all forms of corruption to fund General Song's coup.
Most of the clubs are businessmen, and therefore have no military training, except for the Three of Clubs who is a thug, and the Two and Jack of clubs who have been in the military, but other than them, the only real threat they hold are whoever happens to be guarding them at the time, which usually isn't much anyway. The Clubs are all located in the Southern Province and are all pretty easy to find, some of them are located right in the middle of major cities.
Face cards
[
]
Number cards
[
]
See Also
[
]